Auditoriums are designed to provide audiences with a comfortable and memorable experience. One of the most important elements of an auditorium is the seating arrangement. Choosing the right auditorium seats can ensure the comfort and safety of the audience, as well as enhance the overall ambiance of the auditorium. Seatment, as a leading auditorium seat manufacturer, offers a wide range of high-quality, comfortable and affordable auditorium seats that are designed to meet the needs of all types of projects.
Seatment
At Seatment, we recognise that every project is different and needs a tailored strategy. Because of this, we provide our customers the option to customise their auditorium seats to meet their project's needs. Our upholstered auditorium seats are available in a range of colors, fabrics, and designs that can be tailored to meet specific project needs. Whether it's for a cinema, theater, lecture hall, or conference center, Seatment has a range of seating options to meet any budget.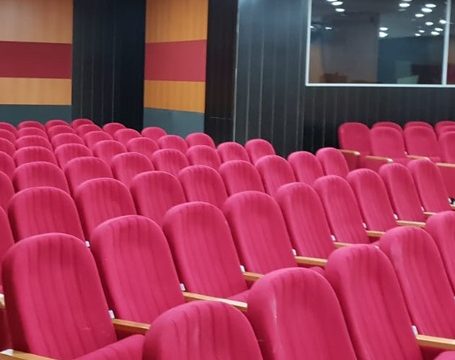 Seatment doesn't cut corners when it comes to the calibre of our auditorium seating. We utilise only the best quality materials and follow stringent production techniques to ensure that our chairs are lasting, comfortable, and safe. Auditorium seats manufacturer provide right quality of products to their clients. Our auditorium chairs are ergonomically designed to provide maximum support and comfort, with features such as adjustable headrests, armrests, and lumbar support.
We understand that auditorium seats price is an important factor for any project, which is why we offer our auditorium seats at a competitive price. Our focus on quality does not come at the expense of affordability. We work closely with our customers to provide the best pricing options that meet their budget constraints.
Conclusion:
At Seatment, we are passionate about creating comfortable and high-quality auditorium seating solutions that enhance the overall experience for audiences. With our years of experience in the industry, we have become a trusted name in the market for auditorium chairs. Our customers can rest assured that when they choose Seatment, they are getting the best possible product and service. So, if you're in the market for auditorium chairs, get in touch with us today to discuss your project requirements and let us help you find the perfect seating solution.
Read More Content
Auditorium Theater Seating (Blog & Product Page)
Auditorium Seating (Blog)
Auditorium Seats Guide (Blog)
Performance Hall Seating (Blog & Product Page)
Theater Chairs (Blog & Product Page)