Are you looking to auditorium chairs for sale? Seatment is your best bet! We recognize that your audience's comfort and pleasure are critical, which is why we offer a variety of fashionable and ergonomic chairs to meet your requirements.
Comfortable and Ergonomic Design:
Our wholesale auditorium seats are ergonomically engineered to ensure maximum comfort for your audience. Our chairs are ergonomically designed to give enough back support and cushioning, keeping your visitors comfortable even throughout extended events. Furthermore, the chairs are designed to accommodate people of various sizes and shapes, allowing everyone to enjoy the event without discomfort.
Durability and Quality:
Our wholesale auditorium chairs are composed of high-quality materials that are both strong and long-lasting. We recognise that your investment must last for many years, which is why we only use the best materials available. Our chairs are designed to endure hard use and severe handling, ensuring that they will last for a long time.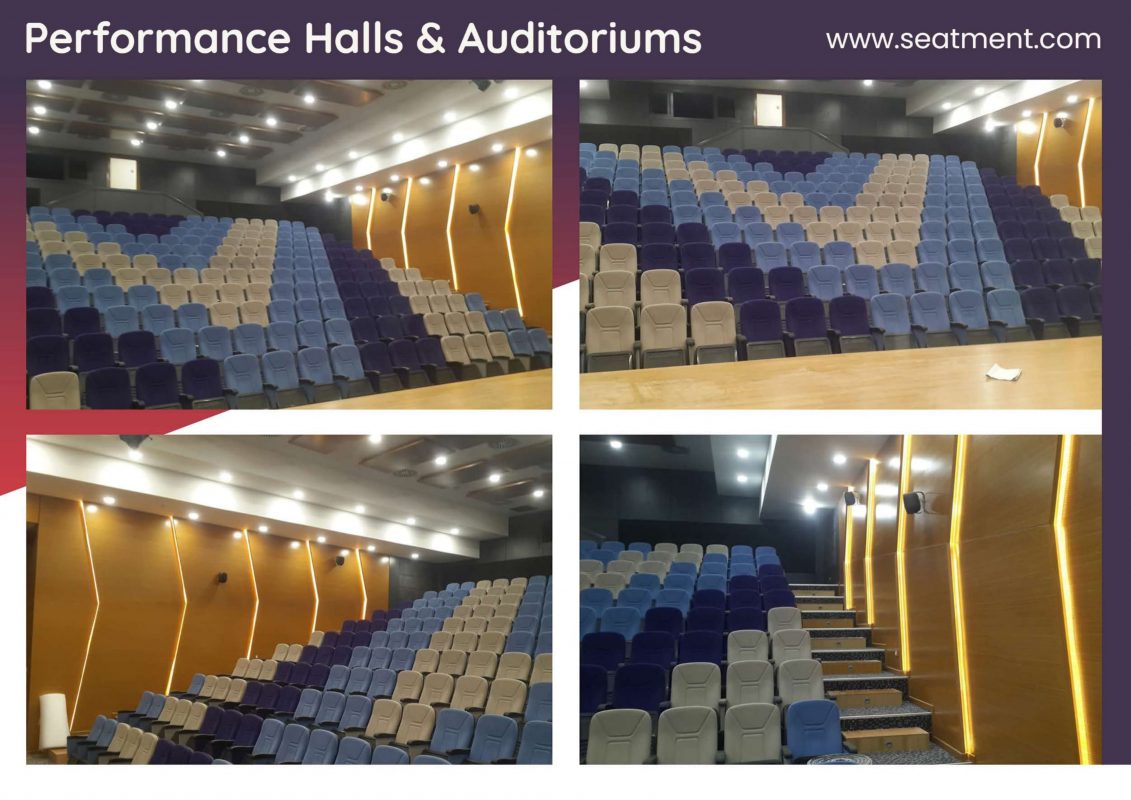 Style and Aesthetics:
You can select best auditorium seat manufacturer in Turkey than other countries in the world that provide the best style of products. Auditorium seats are not only comfortable and sturdy, but also fashionable and aesthetically beautiful. You can easily buy a product at affordable auditorium seats price. We have a variety of patterns and colors to complement the decor of your auditorium, so you may select the ones that best suit your demands. Our chairs are intended to improve the overall appearance of your auditorium, adding to its appeal and charm.
Customization choices:
Because we understand that each auditorium is unique, we offer customization choices for our chairs. You can customize the fabric, color, and design of your chairs to properly complement the decor of your auditorium. We also provide branding options, which allow you to add your logo or message on the chairs, making them even more personalized. Additionally, buyers contact with Turkish auditorium seating manufacturers because they provide them high quality products at affordable auditorium chairs price.
Conclusion:
Seatment understands the value of a comfortable and elegant auditorium, which is why we sell high-quality chairs. Our auditorium chairs for sale are designed to deliver the finest level of comfort, durability, and aesthetics, assuring a delightful experience for your audience. Furthermore, we provide customization options so that you can select the chairs that best suit your needs. So, upgrade your auditorium today by purchasing our premium chairs.
Read More Content
Auditorium Theater Seating (Blog & Product Page)
Auditorium Seating (Blog)
Auditorium Seats Guide (Blog)
Performance Hall Seating (Blog & Product Page)
Theater Chairs (Blog & Product Page)