Are you intending to upgrade the seating at your venue? There is no alternative to Seatment's Fixed Auditorium Seating. Auditorium seats manufacturer provide high-quality manufacturing products to customers. Our premium seating solutions are intended to enhance the audience experience and improve the aesthetics of your venue. This article will explain why the Fixed Auditorium Seating arrangement from us is the finest option for your venue.
A Relaxing Seating Experience
With us, we recognize that seating comfort is of paramount importance. Our upholstered seats for auditorium are designed to provide your audience with a comfortable experience. The foam padding and curved backrest of the seating provide the ideal combination of support and comfort. The ergonomic design of the seat assures your audience's comfort throughout the duration of the event.
Long-lasting and long-lasting
Our Auditorium Fixed Seating is durable. We use durable, high-quality materials that can withstand frequent use. The metal frames of the seats are powder-coated to prevent corrosion, and the upholstery is made of resilient, easy-to-clean materials. Fixed Auditorium chairs from Turkey, you won't need to fret about replacing your seats anytime soon.
Customizable Alternatives
We recognize that every venue is unique and offers customizable options to satisfy your specific requirements. We offer a variety of seat sizes and colors, and we can even add your venue's logo or insignia to the seating. Our team will collaborate with you to design the upholstered seats for auditorium that suits the aesthetic and functional requirements of your venue.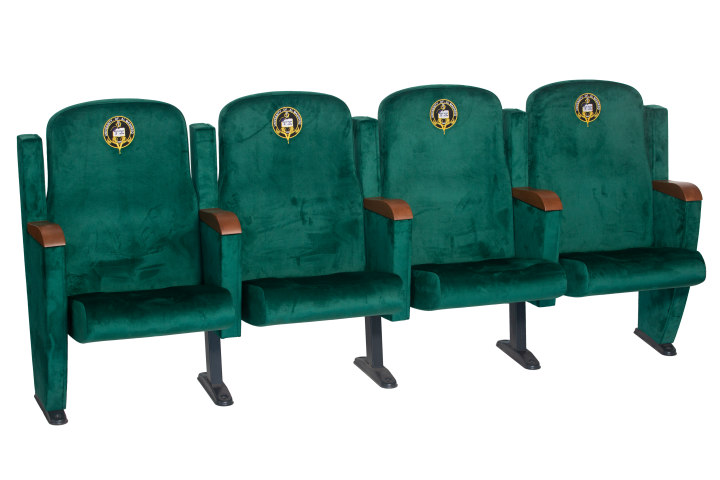 Space-Economic Design
Our Fixed Auditorium chairs from Turkey are intended to maximize the space of your venue. The seats are fixed in position, so there is no need to worry about them taking up unnecessary space when they are not in use. In addition, Turkish auditorium chair suppliers contact with buyers and provide their products at affordable prices. This feature is particularly beneficial for venues with limited space, as it maximizes the available area.
Conclusion:
Seatment's Fixed Auditorium Seating arrangement is a prudent investment for your venue. Our seating solutions are designed with consideration for comfort, durability, customization, and space conservation. Auditorium seats manufacturers have become popular due to their high quality manufacturing of products. With us, you can be confident that your audience will enjoy themselves and that your venue will look its finest. Contact us today to learn more about our Fixed Auditorium Seating and how we can assist you with the enhancement of your venue.
Read More Content (Updated)

Conference Chairs (Blog & Product Page)
Lecture Hall Seating (Blog & Product Page)
Auditorium Theater Seating (Blog & Product Page)
Amphitheater Seating (Blog & Product Page)
Fixed Seating (Blog Page)
Auditorium Seats (Blog & Product Page)