Amphitheater Seating & Amphitheatre Seating Solutions
Schools, as places where students receive education and acquire knowledge, are at the center of the learning process. Amphitheater seating (also called amphitheatre seating) is one of the elements that significantly affect the educational experience.
Some of Our Amphitheater Seating Models
What is an Amphitheater Seat?
We can say that amphitheater seats (also called amphitheatre seats) used in schools or multi purpose areas are specially designed seats where students listen to lectures, watch presentations and take part in collective activities. These seats, which usually have high sloping viewing areas with sequential arrangements, are one of the best alternatives for crowded halls. Amphitheater chairs are produced with ergonomic designs that allow even those sitting at the very back to see the stage and focus their attention.
The Importance of Comfort in Amphitheater Seats
The comfort of lecture hall seats used in schools is a critical aspect of students' learning experience. During lectures or activities, students often sit in lecture seats for long periods of time. Therefore, students should not feel bored or have back pain.
In addition, seats with dense padding help students to focus better. Discomfort or pain can negatively affect the learning process. Lecture chairs with ergonomic design help students maintain their physical health. Supporting correct posture is one of the key points of lecture hall seating.
Upholstered or Wooden Amphitheater Seats?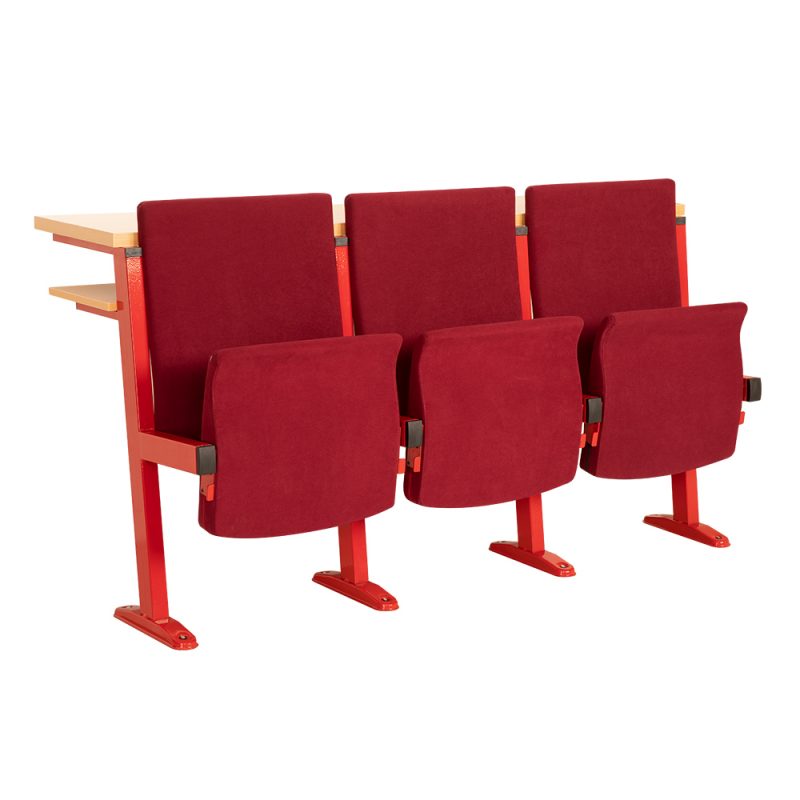 When choosing amphitheatre chairs used in schools, it is an important decision whether they should be upholstered or wooden. Both types of seats have different features. This choice should depend on the needs of the students and the requirements of the school.
Upholstered amphitheater seats, also known as amphitheatre seats, are advantageous in terms of comfort and aesthetics. Soft cushions and upholstery materials provide comfort for long periods of sitting. They can enrich the atmosphere of the school with color and pattern options.
Wooden amphitheater seats stand out in terms of durability and elegance. Wooden material is long-lasting and can be easily cleaned. The comfort level is lower than upholstered seats, but it can be a good option for your budget. Choosing scratch-resistant wood will please you in the long run.
Amphitheaters are usually covered. However, in open areas, weather conditions should be taken into consideration. Seats made of wooden material will not be a good choice. Instead, you can choose seats with plastic structure. As there are many different seat options in theater, cinema and conference hall seating, there are many options in amphitheater seating. Upholstered models should be preferred for seats to be used for educational purposes.
However, for auditorium chairs to be used outdoors (amphitheater seats can also be used outdoors), models made of plastic will be a better choice.
We manufacture all auditorium chairs in our 16000 square meter factory and export them all over the world. Contact a auditorium seating expert for best solutions for your project!
Conference Seats & Writing Table Models
Seminar & Congress Seating
Auditorium Seats & Theater Seats & Cinema Seats