Auditorium seating is the general name of the type of seating used in event spaces such as theater halls, cinema halls, and conference halls.
Auditorium seating is the general name for the seats used in these event spaces.
Fixed seating is the general name for seating arrangements in a hall that are permanently mounted on a fixed floor and cannot be easily moved.
The armrests and legs of the seats are fixed to the floor with screws.
Fixed seating is commonly used in theaters, auditoriums, stadiums, and schools for organized seating arrangements.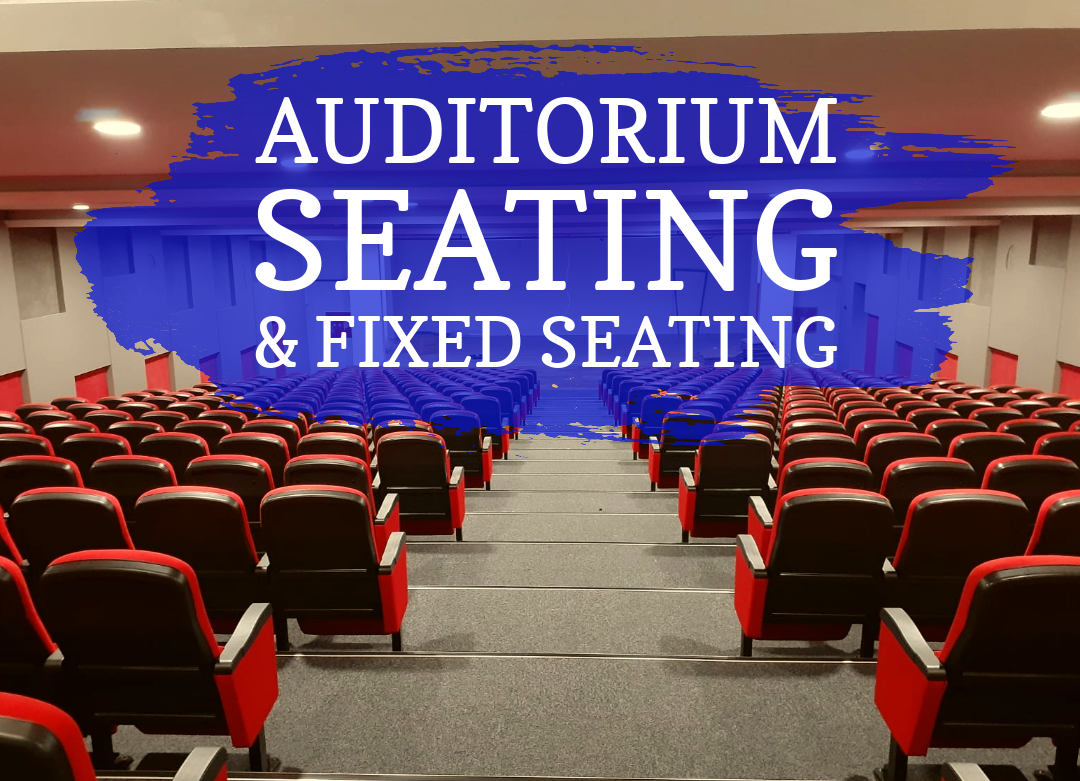 Auditorium Seating
Auditorium seats have different features depending on their intended use.  In general, the types are as follows.
Theater Seats
Theater seats usually have a wooden appearance and curved armrests.
They are produced to provide maximum comfort to the audience with their dense sponge structure.
Shared armrest arrangement is generally preferred.
Theater seating solutions are offered according to different usage areas and budgeting.
Theatre seats with plastic armrests and plastic back-bottom are more affordable.
The compartment type of the armrest also directly affects the product price.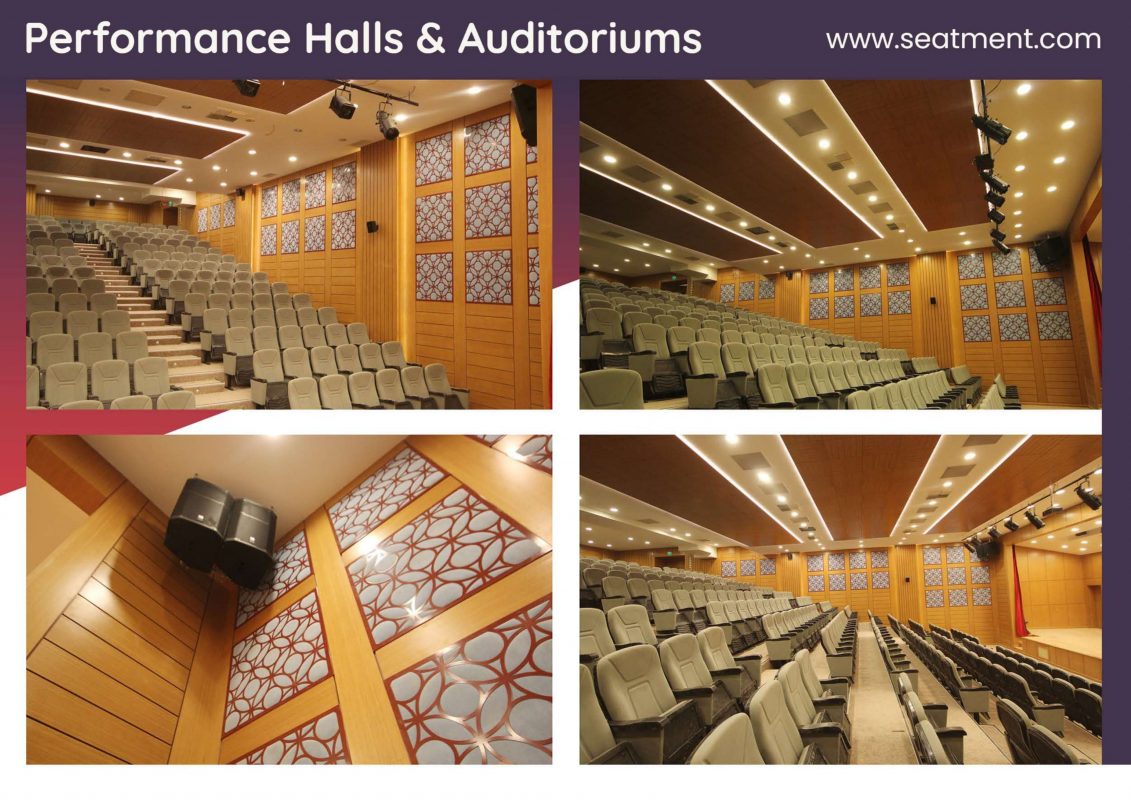 Cinema Seats
Cinema seats can be generally referred to as seats with cup holders.
There are some differences between the seats used in VIP cinemas and the seats used in a standard cinema hall.
Because they target different audiences.
Shared armrests are generally preferred in cinema seating. Chairs are mounted by fixing them to the floor.
Comfort is at the forefront. Cinema chairs with plastic armrests are more commonly used in standard theaters.
The reason for this is cost advantage.
Recliners for VIP Auditorium Seating
The seats with motorized mechanisms used in the movie theater are called recliners.
Recliners are VIP auditorium seats that are produced entirely on comfort and ergonomics.
They include many optional features such as refrigerated cup holders, charging ports, tray tables, massage features, and led lighting.
These seat types, also called home theater recliners or home theater chairs, are offered with many color and design options.
Conference Hall Seats & Lecture Hall Seats
Conference room chairs are unique because they have writing pads.
These writing tables can be on the side, inside, or back of the chair. People generally prefer this type of seat in seminar halls, congresses, and classrooms.
Comfort is secondary compared to theater and cinema seats.
However, many VIP conference halls often prefer premium-looking seats with dense sponges, which is a general term.
Conference chairs are almost similar to lecture hall seats. Seats with half or full armrests are preferred as armrest type.
Ergonomically, you should prefer models with a writing tray that can hide inside.
Educational institutions, classrooms, seminars, and congress halls use lecture hall seats.
Amphitheater Seats
Amphitheater seats are groups of seats mounted together at the back. They are most commonly used in large university classrooms.
Back parts are shared and sponge usage is less. Amphitheater chairs are produced with a focus on durability.
Like all auditorium chairs, lecture hall chairs have a foldable seat structure.
Compared to other auditorium chairs, the seating area and back comfort are lower.
The backs can be combined with a table for users in a back row. This saves space.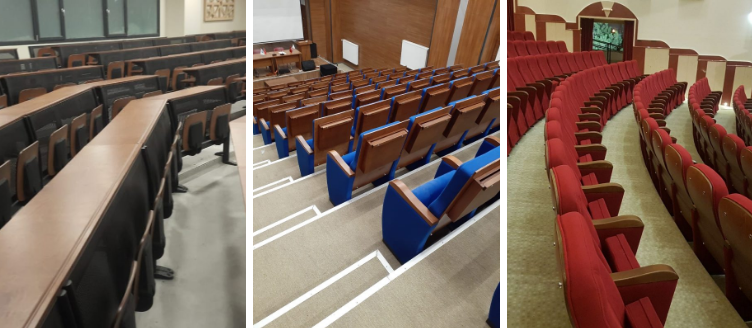 As Seatment, we have been producing all auditorium seats for 40 years and meeting them to the projects of our customers all over the world.
With our 16000m2 factory, we carry out all production activities from A to Z in-house.
You can reach the projects we have completed before related to auditorium seating & Fixed Seating from the references section (See: References).