Table of Contents (Auditorium Seats)
There are many types of auditorium seats used in auditorium seating. Although it is generally called auditorium seating, this article will be a good guide to identifying the seats that are more suitable for your project.
All theaters, cinemas, conferences, stadiums, classrooms, meeting rooms, and event halls are called "Auditorium Halls". For this reason, using more detailed words when doing an internet search will lead you to the right result faster.
Video
Auditorium Seats: Detailed Guide 2023
In order to both save time and determine the right product, we can detail the types of seats as follows.
In this way, I can guarantee that you will get much better results in internet searches like "the best seat for the theater hall", "conference room chair with writing table", and "cinema seat with a cup holder".
Auditorium Seats According To The Intended Use
The main difference that distinguishes auditorium seats from each other is their usage areas.
Theater Seats
In theatre seating, seats with curved armrests made of wood are preferred. In addition to using dense sponges, covers made of wood are used on the back and bottom. Theater seats are generally used in performing arts halls.
Cinema Seats
Armrests with cup holders are generally preferred in movie theaters and cinemas. With dense sponges, a sitting experience with maximum comfort should be offered.
Considering the costs, plastic armrests are preferred more often. There are many VIP cinema seating models according to the customer masses of movie theaters. You can reach our cinema seat models here (See: Cinema seats)
Conference Hall Seats & Lecture Hall Seating
Seats with writing tables are preferred in conference halls. It provides convenience in situations such as audience or students taking notes. Conference hall seats are frequently used in universities, conference rooms, classrooms, meeting rooms of companies, and seminar or congress halls.
Conference chair, also known as Lecture hall seats, is produced using less dense sponges to have an affordable price tag. Of course, not for all seats.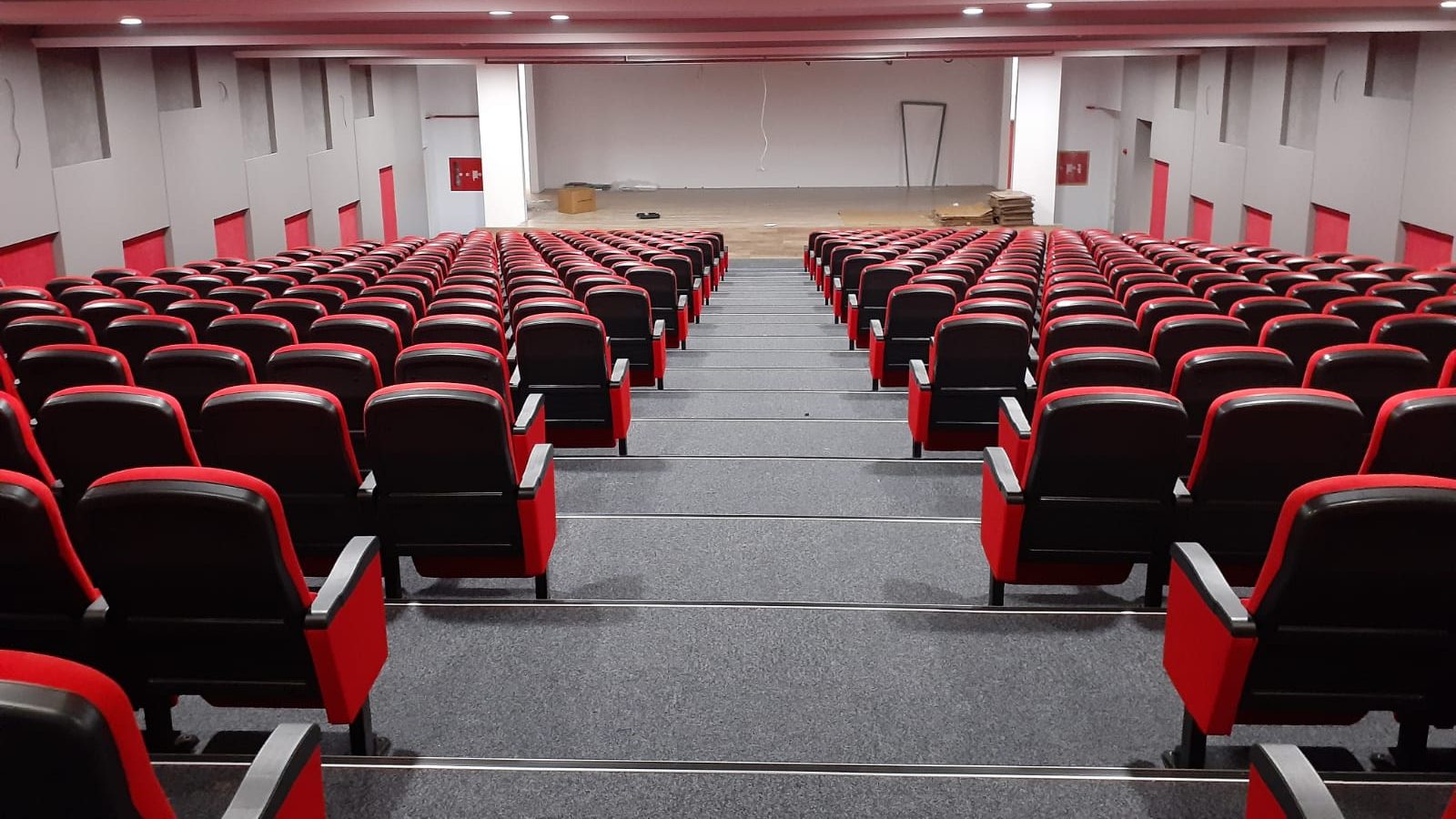 Multipurpose Seating & Congress, Seminar Seats.
General-purpose seats are auditorium seating models used in all halls that do not need additional apparatus such as cup holders and writing trays. It is used in religious places, schools, meeting halls, government buildings, in general in all activity areas.
All manufacturers that provide auditorium seating solutions that care about their customers' projects should give a lot of feedback at the request stage and tell their customers about their experiences for the right choice.
With 40 years of manufacturing experience, we know that working closely with our customers on all cinema seating solutions, theater seating solutions, and all auditorium seating solutions will benefit both parties. Get in contact with a Seatment Auditorium Seating expert for the best advice for your project.
Armrest Types in Auditorium Seats
Armrests are one of the features that distinguish chairs from each other because they create functional differences as well as affect the price.
What is an auditorium seat armrest?
Armrests are the intermediate apparatus on the right and left sides of the seat, which are used to increase user comfort and the stability of the auditorium seating.
Types of armrests used in auditorium seats
–         No Compartment
–         Half Compartment
–         Full Compartment
The compartment refers to the space under the upper armrest. It is used to mount the chairs together. It is the most important part of the chair's design.
No Compartment Auditorium Chair Armrest
In this type of armrest, the upper part where the user places their arm (the part where the spectators place their arm) is completely empty underneath. The connection between the chairs is made by mounting the metals next to the seat to each other.
It is preferred because it provides a simple appearance in terms of design and is more affordable.
Half Compartment Auditorium Chair Armrest
It is the most preferred armrest type. This is because it is efficient in terms of both design and durability.
The inner and outer sides of the compartment are designed to be wooden, plastic or upholstered. In conference room seating or university classrooms, the inside of the compartment creates additional space for writing tables that can be hidden inside.
Full Compartment Auditorium Chair Armrest
The most premium look in terms of design is provided by full-compartment armrests. It is a type of armrest that extends from the upper armrest to the floor and maximizes durability. It is generally used in VIP auditorium halls. Models made of wood are often preferred.
When compared to other types of armrests in terms of cost, you are likely to encounter a price above average. This is due to the additional raw material cost used in production.
We briefly mentioned the types of armrests used in auditorium halls. Before making a decision, taking a look at similar projects will help you make a better choice.

Auditorium Seats Material Types
What affects the price of products the most is the raw material used. Auditorium seat manufacturers categorize product prices as lower, middle, and upper segments to reach a wider customer base.
What is meant as material is not the interior parts of the seats, but the material used on the outside. It should be preferred according to durability, aesthetics, and reasonable price parameters.
The types of materials used in the auditorium and fixed seating are as follows.
–         Wood
–         Plastic
–         Upholstered
Wood
Wood is the most preferred raw material type in terms of durability and aesthetics. With lacquer color options, the most suitable appearance can be provided for the auditorium hall design.
The types of wood used in auditorium seats are as follows;
Oak: Oak is a type of wood that is often preferred for auditorium seating. It is durable, hard and has an aesthetic appearance.
Pine: A relatively more economical option, pine wood is also widely used in auditorium chairs. It is a light and workable material.
Hornbeam: It is another type of wood used in auditorium seats. Hornbeam wood is often preferred for its durability and aesthetic appearance.
Walnut: Providing a luxurious and stylish look, walnut wood is preferred in some premium auditorium seats. It is a strong and durable material.
Plastic
Plastic is the most preferred material type in terms of durability, design diversity, lightness and cost. With molding machines, armrests and back-bottom covers in the desired design can be provided at a much more affordable price.
The most affordable auditorium seats are produced using plastic raw materials. Plastic armrests are generally preferred in conference, seminar, congress halls and stadiums.
Upholstered
Upholstered armrests are produced by covering the inner and outer parts of the armrest with upholstery. These types of armrests, which are advantageous in terms of design, may cause durability problems for long-term use. However, if you cooperate with a good auditorium chair manufacturer, better solutions can emerge in terms of durability by communicating the necessary details.

Auditorium Chairs Price Scale
Just as budget calculations are made before deciding to buy a house or a car, budget calculations should be made in detail in auditorium hall projects to save time. The budget to be allocated for auditorium seats should be divided by the number of pieces and the target price per seat should be determined (excluding assembly).
In this way, you will not need to waste time in vain with products that do not appeal to your target price. By making more consistent decisions, you can reach maximum benefit.
Final
In this article, we talked about the differences in auditorium chairs according to their intended use, armrest types, material differences, and price scale.
A good choice is made after detailed research. Buying an auditorium chair is a serious decision. For more content, you can visit our blog page and contact us.